The Swiss Army Knife of Marketing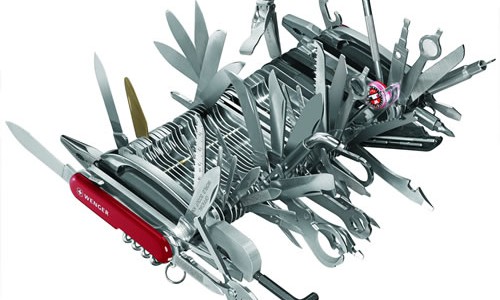 Last week, I was in Colorado Springs for a board meeting with RMB Products, a MCM Capital portfolio company. During the meeting, the head of Aerospace presented a new case study they authored after delivering a 70% cost savings using their rotationally molded ECS ducting compared to a composite alternative. My colleague and I were ecstatic, not because they delivered an enormous cost savings for a big customer (OK, we were thrilled with that too,) but because they had finished their second case study!
Prior to our acquisition, RMB, like many microcap companies, was constrained by relatively small marketing budgets and finite sales resources.  As a consequence, they have been challenged with spreading the gospel of their technical capabilities in working with highly engineered thermoplastics.
At MCM Capital, we are big proponents of e-marketing, particularly case studies, and encourage each of our portfolio companies to augment their sales efforts with an internet centric marketing strategy.  E-marketing provides businesses with access to mass markets at an affordable price and allows them to undertake a personalized marketing approach. The flexible and cost-effective nature of e-marketing makes it particularly suitable for small businesses.   As your marketplace swims in information overload, case studies help your business illustrate how it delivers value, which was the reason for our elation and, in turn, this blog.
Case studies are akin to a swiss army knife, they are extremely cost effective (just your time) and serve many different purposes. Case study content can be multi-purposed in text, image, video and document types: web page, PDF, Word, PPT, Slideshare. Case studies can serve a role in eBooks, blog posts, white papers, guides & best practices, webinars and conference presentations, sales handouts, testimonials, or even fodder for your e-newsletter. Thus, one case study can generate a range of useful content for your marketing strategy. Few sales support tools are more powerful.  Case studies tap the powerful human need for stories, vividly illustrating how your company provides solutions and conveys information in a way bullet points, bar graphs, pie charts, or spreadsheets alone never could.
Below are a few benefits of using case studies as marketing collateral:
Credibility

First and foremost a case study establishes credibility. It provides evidence of how your product or service has been selected and used by real clients.  The fact your customers not only use your products but are willing to participate or be quoted in a case study reinforces this credibility.
Peer-to-Peer Influence

One of the most significant benefits of using case studies is they represent the view of your customers and clients, not your company. Blog posts, webinars, white papers, and other types of content that come directly from your marketing team are often viewed as self-serving, with potential customers tending to be slightly more skeptical of them. Case studies come from the mouth of the consumer, so they act as a third party endorsement of your brand.  The fact customers are willing to attest to your capabilities instills confidence and speaks volumes about the quality of your product or service.
Problem Solving

Case studies demonstrate a company's value add and how a product has been used successfully. They are a great illustration of a company's ability to develop/engineer a solution for a customer's particular problem. It will help establish your reputation as a solutions provider and aid in differentiating your business from its competitors.
Helpful Resources for Sales

Case studies make great collateral for your sales team. If you use a marketing automation system, you can incorporate case studies into email campaigns to send to your prospects to illustrate your company's success in developing solutions for its customers. They're also helpful when sales members are dealing with prospects having very specific problems or needs. If you have a library of case studies to pull from, sales can point the prospect to the case study that most closely resembles their situation. Often times, working a case study in at the right time in the sales cycle can help sales members close deals.
Search Engine Optimization

Case studies establish web authority and will help Google find, index and rank your site. Instead of paying costly fees for paid search, developing a number of case studies will increase your rank in organic searches and in turn, more quality leads. Keyword optimized case studies can also serve as a direct point of entry via search to specific solutions a potential customer is looking for; therefore, shortening the sales cycle considerably.
Adding case studies to your marketing strategy can prove invaluable. But don't just use the knife or the scissors of this multi-faceted marketing tool, explore and utilize its many functions. In the B2B world, a PDF file is expected. Be sure to offer the case study as a web page and in PDF format at a bare minimum, and don't overlook posting to services like Slideshare or re-purposing for use in articles, blog posts, reports, webinars or conference presentations. With more and more B2B buyers controlling the purchasing conversation by trolling the internet to cut through the advertising and marketing clutter, developing a case study can help your business be a part of the conversation.