Performance Plastics Adds Industrial CT Scanner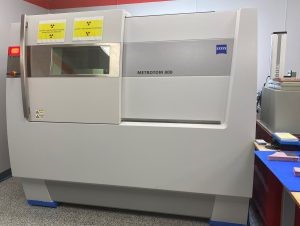 May 2019 – Performance Plastics ("PPL") is world class technical injection molder focused on highly engineered components. Many of PPL's molded parts need to maintain exacting dimensional tolerances which are difficult to measure with the standard QC equipment.  To better serve its customers and further differentiate itself from other molders, PPL made a significant capital investment by acquiring an industrial CT Scanner and related software.  This enables PPL to quickly scan and measure all critical dimension of its customers parts comparing the resulting data to original CAD/CAM drawings.
Industrial CT scanning gives access to the inner workings of a part without having to destroy the original. The scanner rotates the part 360 degrees and uses X-rays to create a precise 3D model. This allows for a thorough analysis of object dimensions, porosity, wall thickness, assembly defects, comprehensive comparisons, and reverse engineering.
PPL now offers a variety of CT scan-related services:
Part-to-CAD comparisons create a precise overlay of the scanned part to the original 3D part model database
Part-to-part comparisons provide an overlay of two scanned parts to reveal dimensional deviation
Void and inclusion analysis provides material and defect analysis showing void or inclusion size and locations
Wall thickness analysis measures slight changes in the wall stock of complex parts without destructive testing
Dimensional analysis provides full article inspections and reporting
Reverse engineering capabilities that generate a 3D CAD file
MCM is confident this latest capital investment will allow PPL to continue to solve its customers most critical problems when it comes to molding complex geometry parts from ultra-high-performance resins to extremely tight tolerances.perfor