Dexmet Speeding Up The Development Cycle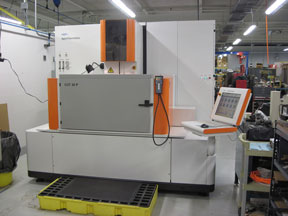 Dexmet has brought the capability of Wire EDM (Electrical Discharge Machining) technology in-house to quicken the development process and provide better turnaround time to its customers.  The new capability will allow Dexmet to quickly generate custom expanding dies for application specific expanded products or provide custom cut geometries out of already expanded materials.
The engineers at Dexmet purchased an AgieCharmilles Cut 30 P from Ross Machinery, also located in Wallingford, CT., because of its advanced features of a simple to use graphics user interface to reduce programming time, large work area and travel capabilities and accuracy at high cut rates . The new Wire EDM technology allows the engineers at Dexmet to execute a range of jobs without any external applications handling everything from contour creation to part production.
The AgieCharmilles CUT 30 P Wire-Cutting EDM has a wide range of cutting capabilities from very hard carbide materials over 300mm thick or the ability to cut intricate shapes in thin delicate foils. Wire-Cut EDM utilizes a fine single-strand metal wire, typically brass, as the electrode and through a series of rapidly recurring electric arching discharges between the electrode and the work piece material is removed along the cutting path by melting and vaporization.  The process produces no cutting forces so there is very low residual stress put on the work piece with little to no change in mechanical properties or shape.
Dexmet new capabilities offer the following advantages to its clients:
Rapid development of new tools to produce an application specific expanded product
Custom cut shapes from expanded materials for prototyping

Quick turnaround on parts – no intricate dies involved
Ability to produce intricate detail that would be difficult to machine with traditional cutting tools
Very accurate cutting tolerances and excellent surface finishes
Delicate and weak materials as well as very hard materials can be machined without any distortion.