STACI Corporation receives Supplier of the Year Award
STACI Corporation Electronics Manufacturing Services facility receives Supplier of the Year Award from Southco
Gurnee, IL – STACI Corporation announces that they have received the Supplier of the Year Award from Southco.  STACI was one of a few hundred suppliers under consideration for this most coveted of supplier awards.  There were a total of 12 suppliers that had been nominated for this most prestigious award this year.
The award was based upon several key criteria as developed by the Global Supply Chain Management Team of Southco.  This Global Supply Team comprises of individuals from specific cross functional internal disciplines, including Quality, Engineering as well as Global Purchasing.  The specific Supplier metric scoring system used for this award included:
–          Quality
–          Delivery
–          Technical Engineering Support
–          Value Added Support
–          Cost (Total Cost of Ownership – TCO)
–          Customer Service Support
For more than 100 years Southco has helped customers solve and overcome engineering challenges. At Southco, they have committed to continual, long – term improvement in all of their products and processes.  They recognize that their supply chain plays a significant role in contributing to meeting their strategic goals and objectives.   All of their suppliers are expected to supply Products & Services to Southco with zero defects. Suppliers are encouraged to use error prevention processes and techniques (such as poke-yoke) and process improvement tools such as Lean, Six Sigma, in their manufacturing procedures to meet this quality goal.   STACI Corporation has met these requirements head on and has supported Southco's needs to exceed their expectations in all that we do.  STACI takes great pride in servicing our customers and look's to developing long term mutually beneficial business relationships based on the above.
Our China / USA team has worked diligently to obtain this most important Supplier Award, this was without question a Team effort", says Greg Hebson, Senior VP of Sales and Marketing of the STACI Corporation, "We are honored to receive this award" This is just another example of our dedicated focus to exceed our customers' expectations in all that we do."
The below is a picture of the Team Award presentation, as presented in November.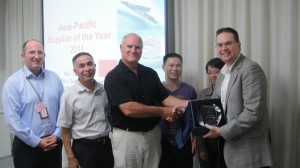 From left to right, individual names:
Philip O'Donnell, Director, Operations, Asia Pacific, Southco
Starfford Zhu, General Manager, STACI EMS
Jim Thirkill, Managing Director, Asia, Chief Operations Officer, STACI
Bobi He, Program Manager, STACI
Alice Pan, Planner, STACI
Richard Hipp, Managing Director, Asia Pacific, Southco
STACI Corporation operates a state-of-the-art facility located in an industrial park in Dongkeng, Guangdong Province, China.  The 60,000 square foot operation provides its customers with printed circuit board assemblies, cable assemblies, and complete turn-key box build products.