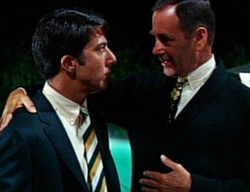 Mr. McGuire: I want to say one word to you. Just one word.
Benjamin: Yes, sir.
Mr. McGuire: Are you listening?
Benjamin: Yes, I am.
Mr. McGuire: Plastics.
Benjamin: Exactly how do you mean?
Mr. McGuire: There is a great future in plastics. Think about it. Will you think about it?
The above lines were spoken in the classic coming of age movie "The Graduate", starring a young Dustin Hoffman as Benjamin receiving career advice from a family friend. It is an interesting exchange from a number of perspectives, not the least of which was how prescience the comment was considering the movie is over 40 years old. In fact, from MCM's perspective they still ring true. Over the past several months we have been seeking to invest in value-added manufacturers of engineered thermoplastic (e.g., PEEK and PTFE) and/or fiber reinforced thermoset (i.e., composite) components and products. Our interest is driven by a number of factors including, but not limited to, a growing trend to convert metal alloy parts to engineered thermoplastic and thermoset materials across a number of diverse applications. Additionally, we possess certain institutional knowledge of engineered thermoplastics and composites gained through Dexmet (a current portfolio company), certain members of our Board of Operating Advisers and a MCM sponsored executive seeking to run a engineered plastics company. Engineered thermoplastics and thermosets, which can be designed with outstanding strength to weight ratios, high purity and chemical inertness, are becoming the material of choice within many applications.
Perhaps the most visible example is Boeing's 787 "Dreamliner". With its (long) anticipated introduction in 2011, the Dreamliner will be the first commercial aircraft incorporating fiber reinforced thermoset plastics (i.e., "composites") in its wings and fuselage. In fact, composites will represent 50% of the aircrafts structural weight, largely displacing aluminum components. By contrast, composite materials represent only 12% of the structural weight of the older designed Boeing 777 launched in 2000.
The overwhelming market acceptance of the Dreamliner has Airbus racing to develop its A350, an alternative to the 787, which also is anticipated to have 50% of its structural weight fabricated out of composite materials. Advance use of composites by these two industry leaders eventually will lead to increased use in regional and corporate aircraft benefiting manufacturers possessing relevant expertise.
Extensive use of composites in aircraft has been a boon to Dexmet. Dexmet is a key supplier of expanded thin foils used to protect composite aircraft structures from potentially damaging effects of lightning strikes. Fortuitously, this has given us valuable insights into favorable thermoplastic and composite industry trends in aerospace and alternative energy. The launch of the aforementioned Airbus and Boeing programs, along with favorable trends incorporating more extensive use of engineered plastics and composites in applications across many industries including, but not limited to, transportation, specialty chemical, medical device, semiconductor and biopharma processing, is creating significant growth opportunities for capable manufacturers.
Engineered thermoplastics and composites have been around for many years; however, only recently have they found widening applications, fueling demand for value added manufacturers possessing the requisite material knowledge and manufacturing capabilities. Our direct sourcing efforts have exposed us to numerous engineered thermoplastic component suppliers, many possessing encouraging economic dynamics, size profiles and growth prospects, reinforcing the validity of our investment thesis. Further, the competitive landscape is populated with a large number of small cap companies providing us with a fertile leveraged buyout and recapitalization hunting ground. These efforts have resulted in the execution of a letter of intent and anticipated November closing of a highly profitable engineered thermoplastic OEM component and product manufacturer. The target serves OEM customers in aerospace, semiconductor, specialty chemical and biopharma industries, all of which have favorable long term growth trends we anticipate will be enhanced by a material conversion from metal alloys.
I agree Mr. Maguire, maybe there is a future in plastics and we are certainly thinking about it.
MCM Capital Partners is a Cleveland based microcap private equity fund investing in niche manufacturers, value added distributors and specialty service businesses. For more information on our private equity firm and investment principles, contact us today.