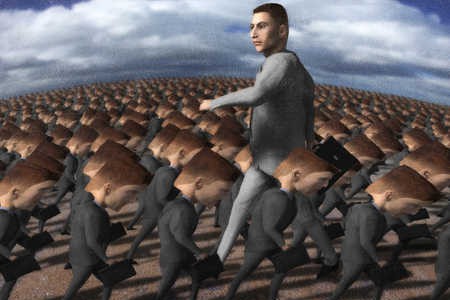 As I deplaned last week in Chicago along with 20 other private equity professionals sporting navy blue blazers with freshly pressed trousers, a gallery of ready to board passengers watched patiently as the herd of early flight businessmen paraded by.  Most of us, if not all of us were heading to the Association for Corporate Growth ("ACG") Capital Connection, a conference attended by leading M&A professionals serving the lower middle market.  The Chicago Capital Connection is an annual event bringing together over a thousand private equity investors, commercial banks, mezzanine investors, business intermediaries, and service providers for a jam-packed day of networking and deal-making. The day's agenda included a keynote speaker, a capital connection event (where private equity groups spend an arm and a leg to stand behind exhibit tables in an effort to show their wares and to differentiate themselves from the herd in business blue), a lunch, more networking events, and an evening cocktail reception.
While the ACG provides an outstanding forum for networking across the country, this years' capital connection was so well attended it was easy to get lost in the shuffle.  Everywhere I turned I saw blue blazers with white name tags acting as matching handkerchiefs sitting in their respective front pockets.  It was as if the entire capital connection walked out of the same Embraer aircraft arriving from Cleveland.  I stampeded with the others down the aisles politely judging over 170 private equity groups manning their 3×5 foot tables desperately vying for attention, enticing visitors with various swag such as tiny bottles of hand sanitizer, 100 MB memory sticks, stress balls, and Mont Blanc look-alike pens wondering how we at MCM Capital Partners separate ourselves from this herd.
After I left the show I gathered my thoughts along with a bag of goodies for the family, (A week later my kids have lost all of the memory sticks, I had to spoon feed my dog hydrogen peroxide so he could regurgitate a stress ball he ate and my wife asked me to stop filling up her drawers with pens that leak.) and tried to put myself in the position of a seller.  What separates MCM from their competitors and why should I select MCM as its partner when seeking a leveraged recapitalization transaction?  Our investment focus of sub $75 million niche manufacturing, value added distribution and specialty service companies is shared by many other firms with available capital, but we are able to differentiate ourselves from other small cap private equity firms by providing the following competitive advantages:
Sharing of Best Practices
CEO's are constantly faced with the extraordinary challenges of growing revenues and building shareholder value.  To support our team's efforts, each year MCM holds an annual CEO Summit.  This two-day event culminates in our portfolio company senior executives listening, learning, and sharing their operational practices with industry experts in different fields.   MCM's annual CEO Summit has successfully led to the sharing of best practices amongst our portfolio companies as well as expose them to new business practices to help them build on each other's successes in an effort to increase shareholder value.
Access to Human Resources
MCM is desirous of retaining all members of an incumbent management team. However, at some point during the ownership by MCM it is not uncommon that a key human resource need arises at the company. MCM maintains relationships with top tier executive recruiters, enabling MCM to provide a CEO with a list of pre-screened candidates to consider for his/her management team.
Ability to Provide Operational Support
MCM maintains relationships with seasoned executives from a wide variety of industries, including flexible packaging, specialty chemicals, electronics, transportation, building products, material sciences, laboratory equipment, component manufacturing, adhesives, general and specialty manufacturing, value added distribution and specialty service providers. These contacts are utilized for strategic guidance, consulting, or access to business opportunities.
Establishing a Value Added Board of Advisors
Each portfolio company will have a Board of Advisors typically including the CEO of the company, two representatives from MCM and seasoned operating executives. MCM will work alongside senior management in determining what type of skill set will add the most value to the respective company.  Virtually all of Advisory Board members have successfully run private companies and "have walked the walk" our CEO's are walking.
Outsourced Corporate Development Services
MCM is an excellent resource to source and evaluate potential add-on acquisition candidates for your company. We maintain a proprietary network of over 4,000 business intermediaries we can access to identify specific add-on acquisitions for portfolio companies. We have a long history of successfully identifying, evaluating, and structuring add-on acquisitions to our portfolio companies. Naturally, MCM's acquisition search work is in close concert with management.
For a complete list of our competitive advantages please click here.
For more information on our small cap private equity firm and investment principles, contact us today.
~Photo courtesy of Stock Illustration Source~